Hello. For those of you who don't know me, I'm Carol. For those who do, I went Surfin' Safari.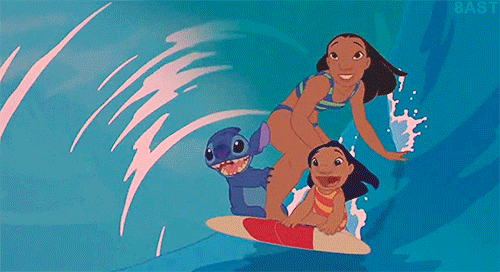 It's summer in Florida. When you think of Florida summer, you instantly think of crowded theme parks, 100% humidity, intense rainstorms, and hurricanes. Oh! and the beach… of course. I like going to the beach, but I'm the kind of person who doesn't go in the water. I like being on shore, reading a book, soaking up the sun, and relaxing. In Florida, there are things in the water that can kill you. Last year, there was a flesh-eating bacteria. More recently, there have been sharks spotted of the coast of my regular beach. Gators aren't beach-dwellers, but they also live in the water and are a very real threat. Understandably, I don't go in the water much. This time, I decided to change that.
I've never gone surfing before. It always looked cool and exciting, but also REALLY difficult. How do surfers stay on their board? How do they stay balanced and not fall off? What happens if a giant wave comes crashing down on me? What about sharks? These are very real questions I had about surfing, but not anymore!
I did some research into surfing schools in Florida and found one called EZride Surf School. They are a Florida company that travels to just about anywhere down the Southeastern coast of Florida, between Miami Beach and Cocoa Beach. They have summer surf camps, private lessons, professional coaching, and group lessons. I gave them a call and scheduled a 2-hour lesson for Molly and me in early June.
When the day came, we got ourselves ready, drove down to the beach, and met our instructor, Marcello. Marcello is originally from Brazil and was once a professional surfer. After a couple years with the pros, he decided to retire from professional surfing and began teaching. He's incredibly nice and easy to talk to. Unfortunately, the Florida weather was not going to be kind to us. It began storming and thundering not long after we arrived. Marcello said it would be great surfing weather if there was no lightning, but we didn't want to take any chances. Plus, it was Molly's and my first time surfing. If those waves were any taller than 3 feet, we would not have been comfortable. We decided to reschedule for another day when the weather was better. I had a whole month to plan this lesson, so there was plenty of time to spare. Marcello was very understanding, and we were able to find another date in the last week of June that would work for all of us.
The day came and the weather was perfect. It was sunny, warm, and just a couple of clouds. Yet again, Molly and I assembled our beach gear, applied quite a bit of sunscreen, prepared our lunches, and set out toward the beach. We met Marcello at the beach around 10:30. He provided the surfboards (9 ft soft surfboards, if anyone cares to know. They are best for the beginners, so I'm told) and swim shirts/ rash guards. We just brought ourselves, water bottles, towels, and anything else we needed for a beach trip. Molly and I were planning to stay on the beach after the lesson was over and veg out, so we brought beach chairs and an umbrella.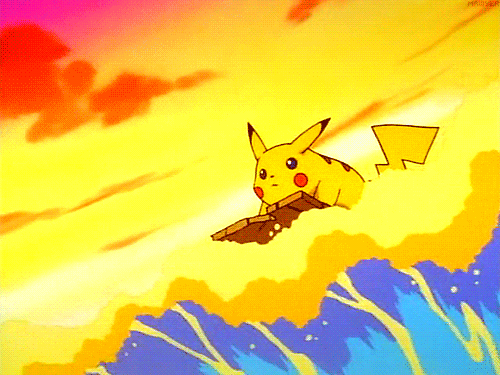 The first 30 minutes of the lesson was mostly safety and a science lesson on weather and oceanic physics. It was really technical, but interesting all the same. For example:
Winter is the best time of year to surf, even though I think of surfing as a summertime sport.
The sweet spot in the water where waves just begin to form is called a line-up. That's where surfers wait for their waves.
Waves are formed when energy from the wind propels the water toward shore. When that water hits a sand bar, the energy is deflected up and forms a wave.
A surfboard is only stable and balanced when in motion. Don't try to stand on it in still water. (I tried. It doesn't work.)
The way you stand on the board is very important to balance. You have to bend your knees to keep your center of gravity low, and keep your arms down! Stiff arms might help to keep balance on land, but in the water, it moves your center of gravity up, which affects your balance.
The key to surfing is to relax and be confident in what you are doing. The easy part is learning to stand on a board. The rest comes with time and experience. Now on to the wipe outs.
Molly, Marcello, and I got onto the beach, put our boards down, and practiced standing up on the board before going out. We practiced this once, then Marcello said, "Looks good. Let's go!" Well alright, eager beaver. This is my first time doing this. Could we practice a little bit more? But I didn't argue. I just went along with it. That might have been a mistake.
We paddled to the line-up point, sat on our boards, and looked toward the beach. It was very crowded. It's what you'd expect from summers in Florida. There was nowhere to hide from the sunbathing audience. I accepted quickly that they didn't matter. I was a beginner, after all! Who cares if they saw me fall off my board a couple times? (At the start, I was very confident that I wouldn't fall too much. Boy, was I wrong…)
Then the moment of truth came. Marcello found my first wave. I got into position and was instructed to paddle. I started paddling toward shore with all the strength I had. As I felt the wave come up from underneath me, I heard "STAND UP!" coming from behind me. Oh crap, here I go. I pushed myself up, found my footing, stood up for a couple seconds, then fell over into the ocean. OMG I DID IT! I SURFED! What an amazing feeling! I just glided over the water like a freakin' GODDESS! I found the surface, and instantly went back to try it again.
The next couple waves I began to overthink everything. My mental checklist was getting longer and longer with each wave. 1. Push up 2. Jump toward the center of the board 3. Feet point toward the side 4. Stand up THEN release hands 5. Relax. I had issues with not jumping far enough, not going quick enough, moving my hands to early and losing my balance, etc. With every pointer from Marcello, I was relaxing less and less, but I was still having fun! It was my first time surfing, after all, and I was doing this for fun. I'm not planning on going pro anytime soon. I managed to ride a wave once, maybe twice. Molly, on the other hand, did really well! She was determined to stand up on the board and she did. She rode her way to shore a couple of times! As I saw Molly improve more and more, I was getting a little frustrated with myself. The next one is going to be the one!
I was kidding about that. THIS one is going to be the one!
Maybe this one?
Ok, new goal: don't swallow too much sea water!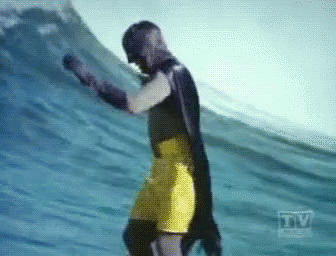 Aced it.
I didn't get the perfect wave, but that just means there is room for improvement! Now that I have an understanding of the basics and what I need to work on, I can practice whenever I want. Again, I'm not looking to become the next big surfer; it's just fun to do. With that being said, I would DEFINITELY go surfing again. I'll also mention that I did NOT die from a rogue shark or disgruntled jellyfish. That's a victory.
If you are ever in South Florida and want to learn how to surf, go to the EZride Surf School website or call 954.803.7988 and schedule a lesson. If you can, ask for Marcello Loureiro. He was a great teacher, incredibly supportive, and he really knows what's up. Happy Surfing!
Aloha,
Carol B