Hello. For those of you who don't know me, I'm Carol. For those of you who do, I'm happy and I know it.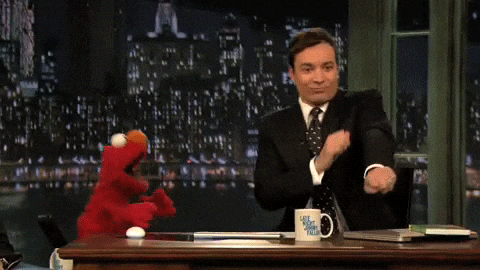 Stretching is important before a good, successful, pain-free (-ish) run. To the annoyance of my mother, I take a REEEEEALLY long time to stretch. It feels good and I feel better when I take my time, rather than rush through it. I focus, mostly, on my legs (for obvious reasons) but I stretch my whole body, just to balance myself out. To demonstrate my pre-run stretching, I'm going to make it more interesting and opt to use a form of media most people understand: gifs. Here is my stretching routine:
Arm stretch– swing your arms around to warm up your shoulders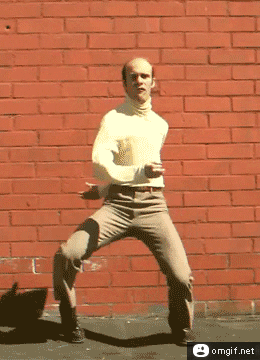 Side Stretch

Bend at the hips and dangle your arms– for more stretch while you dangle, cross your arms, hold your elbows, and sway a bit. It's pretty great. You can "snap" if you want, but it sort of defeats the purpose of a relaxing stretch.

Transfer weight from one leg to the other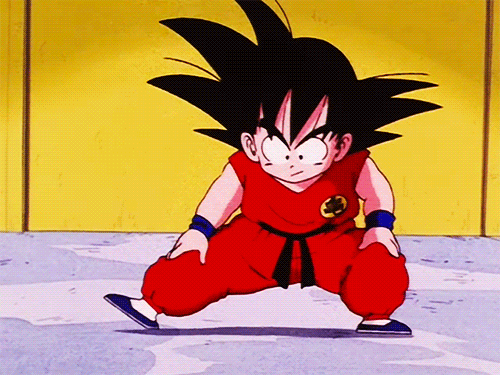 "The Lord of the Dance"– It's a lunge… but I like to pretend I'm Michael Flatley. I put my knee on the ground to stretch my thigh and hip joint a bit.

Calf Stretch– someone on the internet thought it would be a great idea to have a Kermit the Frog stuffed animal doing yoga. You think I'm kidding? Search "kermit yoga" on Google. It's a thing.

Thigh Stretch, with pizzazz– for reference, see Shane Spen-Star below.

The Genie– This one is one of my favorites. To do this, bend both knees like you are going to sit on a chair, lift up one leg and place the outside ankle on your opposite knee. I feel like a genie when I do this stretch, so I call it the Genie Stretch.

And last but not least: Bring it AROOOOOOUND TOOOOWN!!!

If this isn't working for you, there are plenty of videos on YouTube that you can use to warm-up/ stretch before you run or workout.
Week 6 Plan:
Stretch
Warm up: 5 minute walk
Run 5 mins/ Walk 3 min/ Run 5 mins/ Walk 3 mins/ Run 5 mins
Cool down: 5 minute walk/ Stretch
Day 26:
I wasn't able to complete the run today. I could make a bunch of excuses why, but all you really need to know is that it didn't happen today. And that's ok. I can live with that. I'll make it eventually.
Day 27:
There was a fire within me today! I wanted to finish so badly, more than any day before. I'm no longer forcing myself to finish against my will. It's more like I'm enticing myself to finish. Rather than saying to myself "You HAVE to do this, or you'll hate yourself later," I find myself thinking, "If you finish, you'll feel better about yourself. Remember your goals and keep fighting through the pain!" It must be endorphins. Can you get high off endorphins?
Just looked it up. Runner's high is real.
Day 28:
So… I made a mistake. Mom and I did our 5 minute walk, as usual, but as we started our first run, I noticed my phone countdown from 8 minutes, not 5 as we had thought… I didn't bother to check if the routine had changed at all… oops. So, now I know that the plan is beginning to change day by day, rather than week by week. We completed the run, even with the mix up, so that's positive.
Week 6, Day 2 Plan:
Stretch
Warm up: 5 minute walk
Run 8 mins/ Walk 5 min/ Run 8 mins
Cool down: 5 minute walk/ Stretch
For Day 29, we repeated the same routine successfully.
Week 6, Day 3 Plan:
Stretch
Warm up: 5 minute walk
Run 5 mins/ Walk 3 mins/ Run 8 mins/ Walk 3 min/ Run 5 mins
Cool down: 5 minute walk/ Stretch
Day 30-34?
I have a confession to make: I haven't been writing after each run like I normally do, so I've lost count on what day we are on. I think we ran 5/8/5 four times?
It's been a crazy week, so…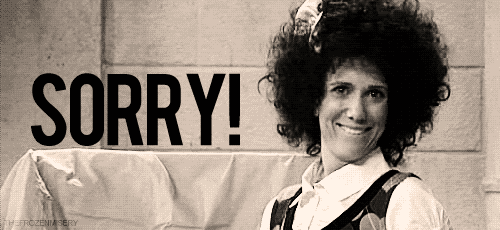 Can't guarantee next week will be any better…
Until next week,
Carol B