Hello. For those of you who don't know me, I'm Carol. For those who do, I'm an herbivore.
Bucket List item number two is in effect.
Mission: Go vegan for a week.
A bit of background: I've never been vegan before, but I have been a vegetarian. The first time I was a vegetarian (yes, this happened more than once), it lasted two years. The reason why has always baffled my family. It was one of the mysteries of the inner workings of Carol. I never really gave a straight or consistent answer as to why I decided to go vegetarian all of a sudden. Well, family, here it is: the truth about why I became vegetarian… I'm slightly embarrassed already.
In middle school, the worst years of anyone's life, we were not allowed to bring backpacks to school for safety reasons (because South Florida is messed up). So we had to carry around all our textbooks, reading materials, and papers in gigantic binders. We all graduated middle school with some awesome upper body muscles. To personalized said binders, kids would cut out pictures from magazines or create picture collages on Word to insert into the binders and make them "cool". To divert the story a bit, in eighth grade, I put a picture of Kevin Jonas in my binder, because Jonas Brothers were all the rage in 2008. Before my Language Arts class one day, someone in my class saw the picture of Kevin and said "Do you like the Jonas Brothers?" Do I like the Jonas Brothers? I LOVE THE JONAS BROTHERS! So I said, "Yes." We started talking and she asked me if I'd like to sit with her during class that day. We talked about Jonas Brothers for the next 5 years. And that was how I met my best friend, Mollie.
Back to the story. I had found a picture of some chicks in a magazine and I thought they were adorable. The advert said "We are not nuggets. Please don't eat us." Luckily, I found the ad online for visual representation. Aren't they so cute!?
I had that in my binder for a while and kept looking at it thinking, "Awww they are just adorable," completely ignoring the message of the ad, mostly because I had no idea what it was trying to tell me. Vegetarianism wasn't that mainstream yet. A couple months later, I went to a friend's house where she proceeded to educate me on the horrors of some farming practices. Videos, brochures, and all. Looking back, it startles me how much information she had pertaining to animal cruelty… One middle school girl should not have THAT many resources about something so… dark.
The following Monday, I went to school and looked at that ad all day, suddenly understanding what it was trying to tell me: Don't eat these adorable chicks. Now I had a major dilemma: I love meat, but I equally love my chick picture. Sensible, right? I felt like a hypocrite for carrying around this picture advertising vegetarianism, but I wasn't even a vegetarian. The logical solution going on in my little, teenaged brain was "If I keep the picture, I have to give up meat. If I don't give up meat, I have to throw away the picture." Guess which one won… the picture.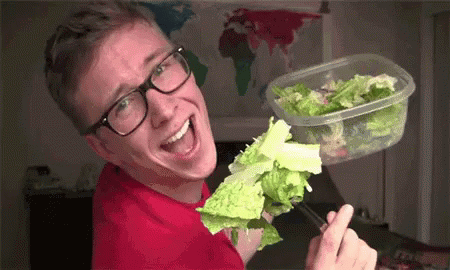 So I gave up meat for two years. My mother was fine with it, but I HAD to eat fish. So, technically, I was piscaterian. It went well for a while. I ate fake, soy meat, ate lots of salads, and had to double check with waiters if something was vegetarian. So I was miserable. There was one mess up, however. My family and I went to a Japanese Hibachi grill for dinner once, and they put chicken in the fried rice. I don't like bothering waiters by asking them to take something back. I fell like I'm being rude and pushy, so most of the time, I just eat it and deal. That night, I remember looking at my dad in an "Oh my god what do I do? I can't eat that… can I? Can I eat that? Would you tell on me if I did?" sort of way. He promised me he wouldn't tell, so that was that. I had chicken that night, and it was delicious.
My vegetarian phase lasted so long because I was worried if I started eating meat after a long time away, my stomach would hate me and rebel against my new diet choices. Plus I had to prove I wasn't a hypocrite. My phase ended when my family ordered Chinese food for dinner one night. The steamed dumplings looked SO GOOD! I was stuck with my vegetable Lo Mein (again). I gave my dad the same "Would you tell on me?" look, and he just said "Go ahead." And that was that, I was eating meat again.
My freshman year of high school, I wanted to try eating vegetarian again because it was just a healthier lifestyle and I wanted to lose some weight. That lasted a year before my Mom made her homemade meatloaf, my favorite meal. Three years was long enough to go without meat. Soy meat and tofu gross me out now. It took a while for me to be ok with salads, but we're cool now.
Now you know my history with vegetarianism. This week, I'm taking it a step up and going Ultra Vegan. That means no dairy, no egg, no honey, and nothing that was processed using machinery that has been in contact with dairy, eggs, or honey. Like I said, Ultra. I'm adding to that list low-processed food, because that's the kind of diet my parents have grown accustomed to. Most of the food we are eating will be homemade. I've just realized how much bread I'm probably going to eat this week… I'm so excited!
Warning: I'm going to be one of those annoying people who takes photos of their food. I apologize in advance.
Sunday:
BREAKFAST:
This morning, we had vegan pancakes with blueberry syrup and papaya and strawberries on the side. I haven't had pancakes in a while, so starting off Vegan Week with pancakes is fine with me!
Here are the recipes if you'd like to try them.
Vegan Pancakes
Citrus Wild Blueberry Sauce
LUNCH:
Mom and I went out to do some grocery shopping at Whole Foods, in preparation for the coming week. We stopped for lunch at a restaurant called The Blend: A Gourmet Experience. I don't know how gourmet the experience was, but it had vegan stuff, so I was down to try it. Mom got a Roasted Red Beet and Apple Salad  with candied walnuts and balsamic vinaigrette and a Sweet Tropical Paradise smoothie (Cashew milk, banana, pineapple, coconut water, and spinach). I had a Buddha Bowl that had every vegetable under the sun (red pepper, carrot, cucumber, tomato, avocado, quinoa, chick peas, zucchini, yellow squash, olives, hemp seeds, and sunflower sprouts [whatever those are…] ) over mixed greens and a tahini dressing. To drink, I had a True Love juice (Beet, lemon, spinach, apple, and carrot). Name aside, it sounded good. I'm not expecting Prince Charming to sweep me off my feet anytime soon, but a girl can dream…
DINNER:
For dinner, we had a regular salad with chick peas, tomatoes, cucumber, olives, and a simple, Same Tang dressing with some flatbread on the side. Now that the Oscars are coming up, TCM has all the Oscar winning movies playing in the lead up to the 2017 award night. Tonight, we decided to watch How the West was Won.
"Flatbread" recipe: Amazing Whole Wheat Pizza Crust
I'm liking everything we are eating so far. Let's see how the rest week goes…
Carol B
Continue reading more about my Vegan Week in Day 2