Hello. For those of you who don't know me, I'm Carol. For those who do, the name's Blackbeard. Arrrgh.
Week 2 Plan:
Stretch
Warm up: 5 minute walk
Run 1.5 minute/ Walk 2 minutes 6 times
Cool down: 5 minute walk
Stretch
Day 4:
Today went well. I pet a dog on the way, which made me happy. I was a bit worried, though, since she didn't have a collar and no one was around to watch her. I was really close to picking her up and carrying her home. That would have made my dad reeeeeeally happy (meaning not at all). I think some one picked her up as we were running away so I fell better about the whole situation.
I didn't run the whole 9 minutes. I stopped for a little bit after the 5th rep, but I kept going all the same. At the end, I was yelling at myself "RUN CAROL RUN! RUN HOME!" I was channeling my inner Forrest Gump by that point. Surprisingly enough, it worked. It didn't make me feel any less tired but it urged me to finish strong. Whatever it takes, I guess. It's all about training the mind as well as the body.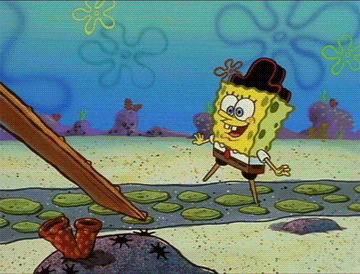 P.S. Shin splints are the worst.
P.P.S. When I hear shin splints, I always imagine that my leg turns into wood and I suddenly have a peg leg…
Day 5:
If you are thinking of starting a Couch to 5K program, it's worth it to invest in some good running shoes. I started the first two weeks with a random pair of sneakers I just happened to have, and I think that's what caused my knee pain. Since I started running with my new shoes, leg pain hasn't been a problem. I lied. It's still a problem but running is rough. That's the price I must pay when I try to get in shape after years of inactivity. I've been advised to start running in the dirt to soften the impact, but since there is no dirt path around my neighborhood, I'm sticking with the pavement.
Anyway, Mom and I ran the whole 9 minutes! It's 30 seconds more than Day 4 but it's the little victories. Toward the end, I felt like we needed a bit of inspiration. So I told Mom, "We can do it! It's going to be fun. We'll run home then we're done." That's when my phone beeped, and Gloria signaled the start of our final run. (Gloria is the name we affectionately gave to the voice on my Couch to 5K app. The idea was that Gloria was leading us to glory. She's very encouraging.) I don't know if it was because of my own bit of encouragement or not, but the 6th rep was much easier than the previous. I'm hoping that happens more often.
Last note, when your legs hurt as much as mine do, you start to notice small changes in topography. I never knew my driveway was at a slight incline until today. I wonder if that's how the study of topography started. Some medieval dude decided to go for a run and the rest is history…
Day 6:
We've never been this far in the program before. We've finally caught up. Last time we participated in Day 6… we didn't. My fault. I take full responsibility. BUT NOT TODAY! I don't feel as out of breath as I did on Day 5. It's actually working! I could pull this whole run-an-entire-5K thing off! I still feel like a peg-legged pirate, though.
My sudden positivity and energy burst brings to mind a quote from Legally Blonde:
I can now say from experience that that statement is very true.
Until Week 3 (FINALLY!),
Carol B